DFU

or

DfuSe

is the USB package for do a firmware upgrade on STM32 via USB.
DfuSe contains the demo GUI, debugging GUI, all sources files and the protocol layer
.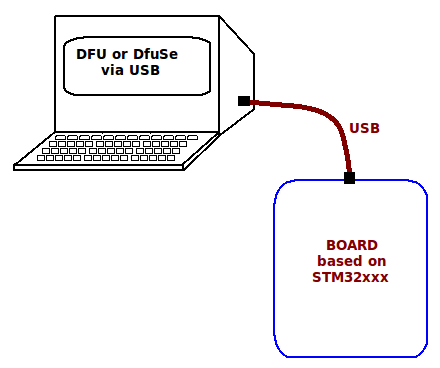 For using DFU on STM32 please read the

AN3156

and

UM0412

.

AN3156

- USB DFU protocol used in the STM32 bootloader

UM0412

- Getting started with DfuSe USB device firmware upgrade

The key benefits of the DFU Boatloader are:

No specific tools such us JTAG, ST-LINK or USB-to-UART cable are needed.
The ability to program an "empty" STM32 device in a newly-assembled board via USB.
And easy upgrade the STM32 firmware during development or pre-production.


Here there is a video that show how to use

DFU

and STM32F072B-DISCO.