This manual (in English) explains, step by step how to start to develop software on STM32F0 (Cortex-M0).
In this manual we use the STM32F0-Discovery, a KEIL
C Compiler
and ATOLLIC
C Compiler.
Topics covered are:

Introduction
Introduction to CORTEX
Strengths of CORTEX Mx
Strengths of STM32
STM32F0 key features

Software Development Tools
Hardware Development Tools
What do you need to develop on STM32F0
Reference links
Basic things to remember
Tips on how to develop a good software
EXCEL worksheet for configuring the system clocks
How to use the STM libraries and Keil
stm32f0xx.h
stm32f0xx_conf.h
Block Diagram
Clock Tree
Tables to find out what are the resources that we use within the STM32F0
ATOLLIC GPIO Toggle
ATOLLIC .cproject

ATOLLIC: how to import a file in a project
ATOLLIC: how to display a variable
Examples

Below is shown the first two pages of the manual.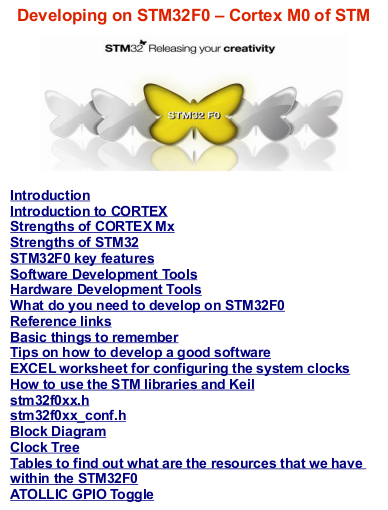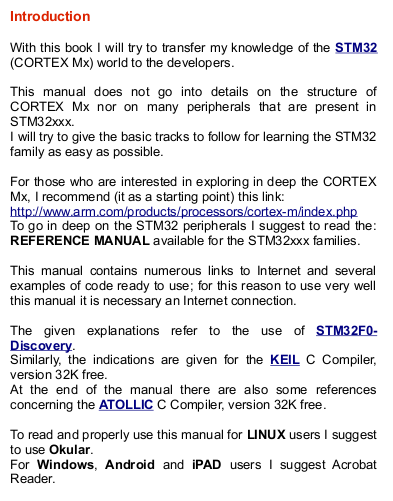 The manual is composed by 55 pages and is released in PDF format; to use it properly it is necessary an Internet connection to use the hyperlinks that it contains.

The cost of the manual is

10€

and entitles you to receive free updates for one year.
If you want to purchase this book click on the button below.

After the payment, please write to:

em.mcu2011@gmail.com




for highlight the payment details.


Normally in 24/48 hours you will receive an email with the manual and the password to open it.