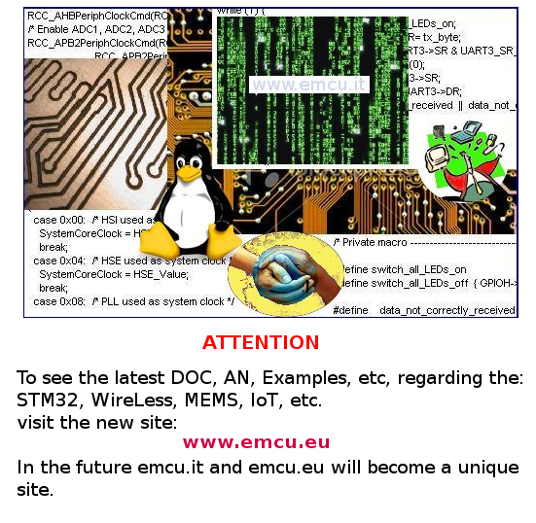 ---

---
---
---
STM official page for STM8 DALI - STEVAL-ILM001V1 eva board is here.

---

Introduction
Digital Addressable Lighting Interface

(

DALI

) is a technical standard for network-based systems that control lighting in buildings.
It was established as a successor for 0-10 V lighting control systems. For more info click

here

.
The

STEVAL-ILM001V1

is a plug-in module for the

STM8S-DISCOVERY

kit and

SW DALI library

, to create a fully working

DALI slave

application.
The STM8S-DISCOVERY + STEVAL-ILM001V1 work as a DALI slave device and can be connected to and controlled by any DALI network.
The LD1 on the STM8S-DISCOVERY kit is used as a light source. Its brightness, fade-in/out times, etc., as defined by the DALI standard, can be controlled through DALI to simulate a normal lamp behavior.
STEVAL-ILM001V1
Key Features
Level translation from DALI voltage levels (-6.5 to 22.5 V) to microcontroller levels (3.3 V / 5 V logic)

Proper rise/fall times for the communication

Current consumption limit (2 mA max.)

Overvoltage protection for misconnection of rated mains voltage to DALI DA connectors

RoHS compliant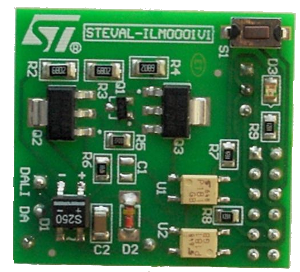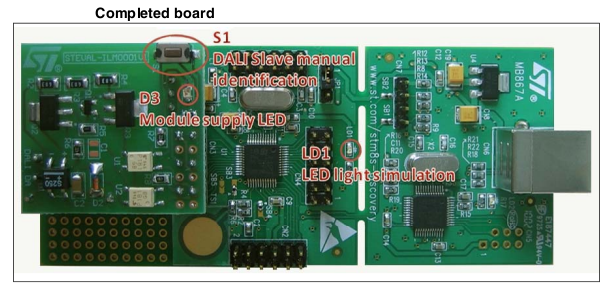 UP
---

Hardware required
STM8S-DISCOVERY

: works as a motherboard for the module. The USB is enough to power the whole board including the module.


STEVAL-ILM001V1

: DALI physical interface board.


DALI network

: any network with a DALI master may be used for evaluation (e.g. DALI MCU from Osram or the ST7DALI-EVAL kit).
UP
---

Software
STM8S sw DALI
example is here.
UP
---
---